Use Our Sand Sculptures For Your Events
If you want your events to be memorable, you have to unleash your creativity and to think outside the box, in order to find the best ideas to entertain your guests. Our sand sculptures are exactly what you need to create a memorable experience your guests are going to remember for a very long time.
When you hire us to create sand decor for your party or special event, you'll benefit from the work of skillful artists who are able to replicate almost anything you can possibly imagine. We have the skills and the tools to create exquisite works of art out of pure sand. Before we start the work, we always spend time listening to our clients. Our ultimate goal is to understand their intentions and to create the right atmosphere that will put their guests in the mood for party.
Our sand sculptures cover a wide array of categories. Besides, they come in different sizes and shapes. We know how to adapt our work to the available space, in order to make a strong impact without obstructing the passageways. When you choose us to create sand sculptures, you don't have to worry about anything else than offering us a blank canvas and the time required for out artists to complete the job. We have all the tools and the materials for the job. Our experience of over one decade recommends us as some of the best sand art creators in this area.
The work process starts with the briefing session. You meet our team of artists to discuss your needs and your specific requirements. Next, we might want to see the venue of your event. Some photos of the space would be everything we need to understand the proportions and the limits of your future sand art. Next, out artists will provide you with a sketch and a custom quote on your project. We will also estimate the amount if time needed to complete the sculptures. Sometimes, we can have everything ready within a few hours. However, in case of more complex sculptures, our artists might need days to complete the work. Anyway, we are going to inform you on all these details, so that you can coordinate your other tasks accordingly.
If you want to see samples of our previous work, you are welcome to browse through our work portfolio. Our gallery of sand sculptures includes animals, buildings, life scenes, and many other creations. We take pride in being extremely careful. Our attention to details enables us to create sculptures that look perfect. We are passionate about our art, and we always do everything in our power to satisfy our clients. This is how we managed to build a solid brand awareness for our company and to receive lots of positive reviews and recommendations.
Contact us today to find out what we can do for you. Your next event can be truly memorable, provided that you offer your guests a strong element to focus on. This element could be one of our sand sculptures.
Have you hurt your back on the beach? See our Palm Beach event sponsor, Namaste Chiropractic at 5540 PGA Boulevard #100, Palm Beach Gardens, FL 33418, USA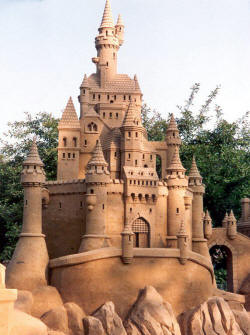 Sandcastles are made of grains. Grains are billions of tiny sharp-edged particles rubbing and tumbling together. A sandcastle's power depends on how the particles are interacting. Click this link to know more about the Physics of Sandcastles.